About the Artist Pat Acton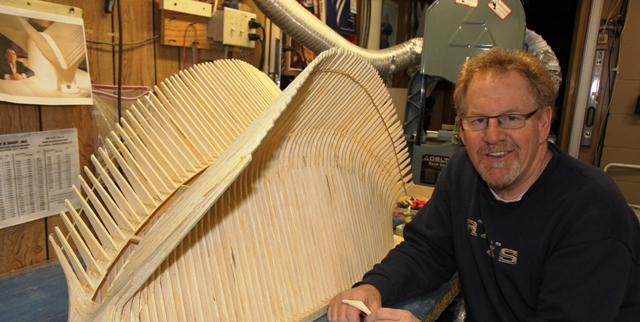 Pat with his matchstick model of the Transportation Hub building, part of the new World Trade Center model finished in 2013.
Background
Patrick Acton was born in Greene County, Iowa, and raised on his family's farm near Rippey.  After he graduated from the University of Northern Iowa in 1977, he moved to Gladbrook, IA, with his wife April, and soon began experimenting with matchstick models as a hobby. He recently retired after nearly three decades as a professional career counselor at the community college district in Marshalltown.  He is now self-employed as an artist, making matchstick models full time.
Childhood Building Projects
Acton enjoyed working with wood and tinkering since childhood.  When he was ten, his father bought him a new bicycle.  He had it for only two weeks when he cut up the frame and put a lawn mower engine on it. Acton would effortlessly breeze along on his "motor" bike over the hills of west central Iowa.  He also built a fully-enclosed tree house, complete with glass windows, painted siding, and heating stove.  Another childhood project included salvaging an abandoned Ford model T truck from a cow pasture, and restoring it to running condition. Acton remembers that he was often in trouble for not returning tools to their proper place on the farm.  He learned many woodworking skills as a youth by trial and error.
Matchstick Model Building
As a child, Acton saw a television news story about a man who fashioned a model of his farmstead from ordinary wooden matchsticks.  Although Pat never forgot about this interesting story, it wasn't until years later that he attempted building with matchsticks.
Then in 1977, fresh out of college with no woodworking tools of his own, Acton built a small model of a country church. He used Ohio Blue Tip matches purchased at the grocery store, a bottle of school glue, a utility knife, and a piece of sandpaper.  Soon after that he challenged himself by building a matchstick model of a ship, the frigate USS Constitution. His wintertime hobby became a passion for Pat.
After nearly ten years of model building and cutting the heads off 100,000 matchsticks, Acton contacted the Ohio Blue Tip Company and learned matchsticks could be purchased without the sulfur tip. After this discovery, Acton was able to work much faster, increasing the size of his models from inches to feet and from hundreds of matchsticks to thousands.
By 1994 when Ripley's Believe It or Not began purchasing models from Acton, he had established a fully equipped woodworking shop in his home and was spending hundreds of hours each winter building models.
Matchsticking Techniques
Over the years Acton has developed many techniques and processes that have allowed him to make more complex and detailed models.
Originally Acton built models of structures with straight sides. After years of cutting single matchsticks into many pieces to form curves and shapes, he discovered that he could crimp and bend individual matchsticks into curved shapes using a needle-nosed pliers. No steam or water is used to bend the sticks.  Once the curved stick is glued in place, it can be lightly sanded with no noticeable trace of damage to the matchstick. This technique was discovered while shaping sticks to build his model of Pinocchio.
Another technique Acton developed is sheet-building. After thousands of matchsticks are glued together on a base of Plexiglas, the glue is allowed to dry for a few days. Then this matchstick board can be peeled away from the sheet of acrylic. These large flat sheets of matchsticks, similar to a thin pieces of plywood, are used for various model substructures.
Although his techniques for building models have improved, the basic process has remained the same; that is, gluing one stick at a time.
Powered by BDH Technology