Hogwarts School of Witchcraft and Wizardry

Artist Patrick Acton's latest creation, the 600,000 matchstick Hogwarts School of Witchcraft and Wizardry, is no longer on display at Matchstick Marvels. Hogwarts has been moved to Majorca, Spain for peramanent display at a new museum, The House of Katmandu, will officially open in April, 2007.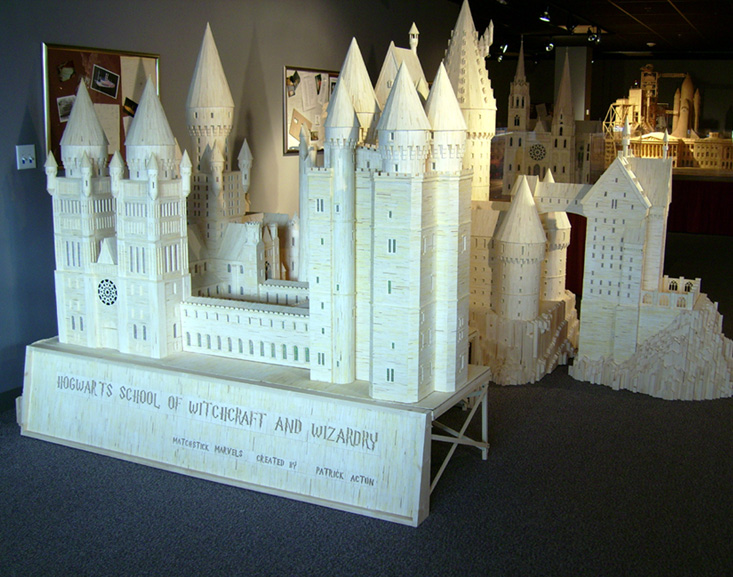 During the past two and on-half years Matchstick Marvels has taken you on an enchanted trip to J. K. Rowling's world of Harry Potter . Acton will be displaying his matchstick version of Hogwarts School of Witchcraft and Wizardry at the Matchstick Marvels museum in Gladbrook, IA through 12/06/06. The model is based on Hollywood's version of Hogwarts seen in the Harry Potter blockbuster movies.

Acton's matchstick version of Hogwarts has been sold to an attraction in Spain called "The HOUSE OF KATMANDU". By the time the final building (the Clock Tower buidling) was finished it had taken Acton nearly three years to build, and it contains over a 602,000 matchsticks held together with 15 gallons of carpenter's wood glue. Hogwarts is Acton's largest matchstick model to date.

Whether you are a Slytherin, Hufflepuff, Ravenclaw, or Gryffindor fan, there will be no Goblet of Fire allowed within this matchstick castle!